LMJ 2019 + New Membership 7/1/2019- 6/30/2020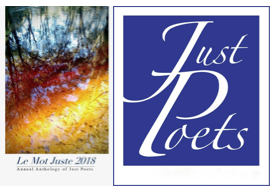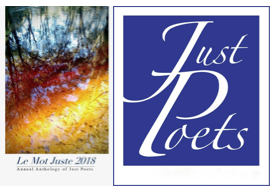 LMJ 2019 + New Membership 7/1/2019- 6/30/2020
FOR NEW MEMBERS ONLY: one copy of LMJ 2019 shipped to you, plus Just Poets membership, which includes the right to be published in LMJ 2020 and a free copy of LMJ 2020 when issued.
Benefits of Membership include:
Peer group poetry workshops.
Publication in our annual anthology Le Mot Juste.
One copy of Le Mot Juste. Additional copies at a 30% member discount.
Your picture, bio, & a link to your writing website or blog on our POETS page
The 2018 Anthology of Just Poets includes the work of over sixty members. Edited by Eric Rounds, with Associate Editors Jennifer Maloney, Elizabeth Johnston and Mina Hatami. Designer Gretchen Schulz.
Soft Cover 78pp.
Published by: Foothills Publishing, Kanona, NY
ISBN 978-0-921053-38-2